Blooming Art is an art competition open to anyone living in the Farnham area and is being run as part of Farnham In Bloom. Farnham in Bloom is the largest community project in the town and now incorporates not just hanging baskets and pretty gardens but arts, dance and conservation projects. This year, Blooming Art is sponsored by the South Street Trust.
For Blooming Art 2019 entrants have to make a collage on the theme of "Leonardo". Why "Leonardo"? May 2019 is the 500th anniversary of the death of Leonardo da Vinci. As an artist, engineer and dreamer he has been an influential figure on Western art and thought. His many lines of thought and enquiry can provide starting points for your creativity. But you do not have to be limited to Leonardo da Vinci. You can interpret this theme in any way that grabs you, so perhaps for you it will be Leonardo di Caprio, or Leonardo from the Ninja Turtles, or some other Leonardo completely?
There is no size limitation but the work will be on public display and must be robust enough for this.
Entries are invited for the Blooming Art 2019 collage competition, running again in support of Farnham in Bloom.
Entry to the competition is free and you can sign up here.
Why Collage?
A collage is a visual piece, which can be either two or three dimensional. It is made from bringing together different materials and resources (such as newspaper, collected objects, photographs, material, recycled items – the possibilities are endless) to create something new. It is therefore a very versatile form and does not rely on you having particular skills in painting or drawing, or huge resources.
Collage is very flexible. Your work can be abstract or figurative: glued, sewn, welded, or otherwise stuck together.
Creating your collage
For Blooming Art 2019 entrants have to make a collage on the theme of "Leonardo", which should be taken in its broadest sense and interpreted freely.
We would like you to use re-cycled materials or found objects as much as possible but this is not obligatory.
There is no size limitation but the work will be on public display and must be robust enough for this.
When making a piece please consider how you will display it in an exhibition. If it is to hang on the wall, please present it in such a way that it can be hung. If it is free standing, make sure that it will stand up. In all cases make sure that bits will not fall off (we cannot be responsible for running repairs) and it is not dangerous to the public.
Here's some work from previous Blooming Art to give you an idea….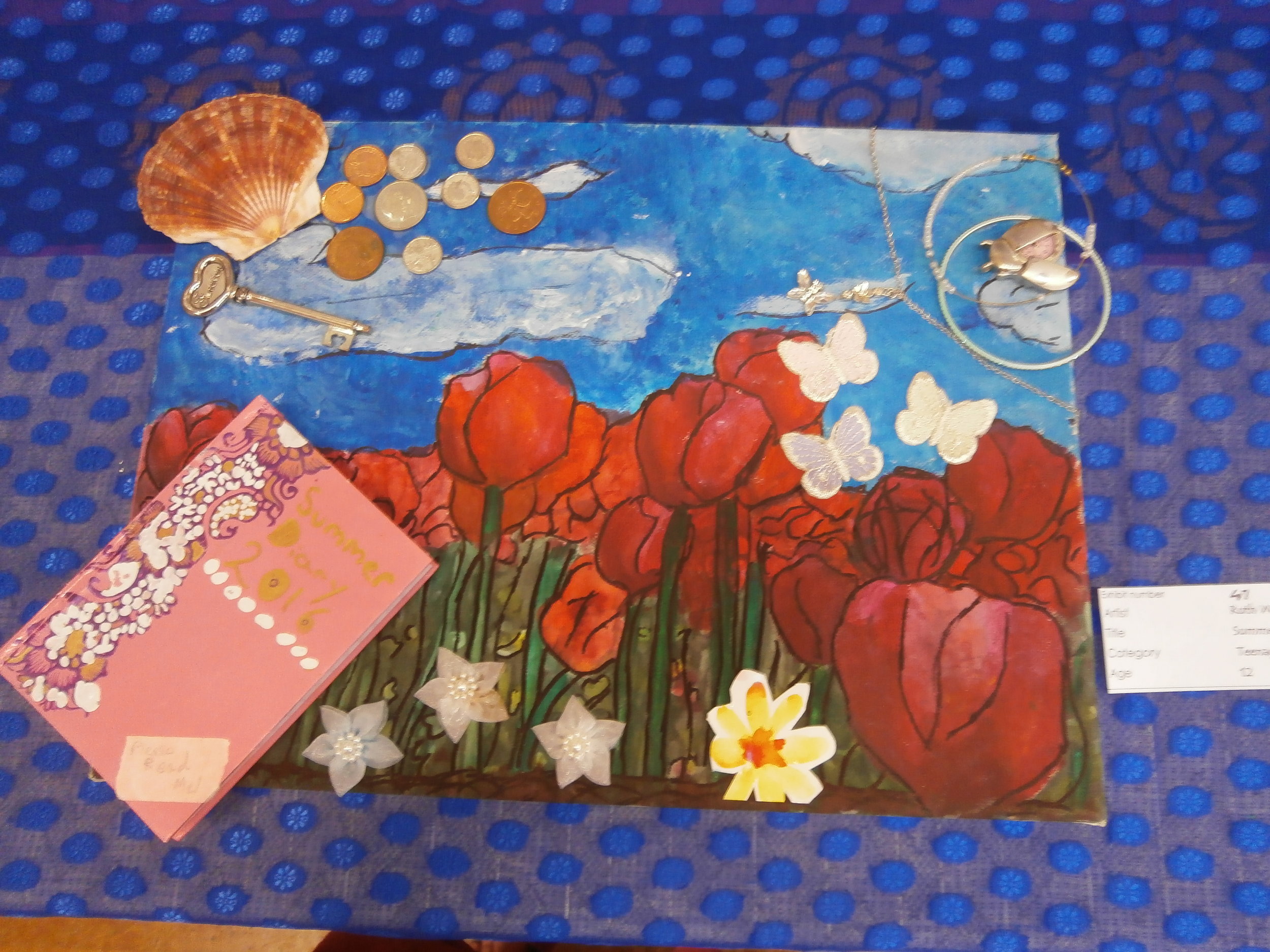 Exhibition
All pieces entered and accepted will be exhibited in an exhibition to be held at Farnham Maltings in 2nd - 4th July 2019. You will be able to offer your work for sale at the exhibition and if sold, a commission of 20% of the sale price will be payable to Blooming Art.
Who can enter?
Anyone over the age of 5 living in the Farnham area can enter. Entry is free.
Entries can be by an individual or by a group. One entry per person or group. One piece per entry.
How to enter:
Submissions:
Submissions must be delivered to Farnham Maltings on Monday 1st July between 9am and 12 noon. If you cannot deliver between those times please contact Jo on 07949205971 or email jo@bloomingart.org to discuss alternative delivery arrangements.
TERMS OF ENTRY - PLEASE READ!
1 Entry is free of charge. Work must be submitted in a suitable form for display at exhibition.
2 Blooming Art reserves the right to refuse to accept any piece entered for whatever reason.
3 Any work submitted can be exhibited by Blooming Art in whatever way it deems most appropriate, may be photographed and photographs used in publicity materials or on social media. The name of the artist/group will also be used at the exhibition and may be used in publicity materials and social media.
4 Blooming Art does not accept responsibility for any damage done to the work submitted.
5 All work must be collected on the day after the exhibition closes unless otherwise agreed in advance with Blooming Art. Any work not collected can be disposed of by Blooming Art as it thinks fit.
6 If you want to offer your work for sale at the exhibition you must notify Blooming Art when submitting the work including the price you want to sell for. If sold Blooming Art will take a 20% commission.
7. By entering this competition you are agreeing that you have read and accept the terms of entry above.